Working with Children Act Compliance Verification
This is the Government requirement and as you can understand with over 600 children in the competition it can be a logistical nightmare to police. The Thornlie and Districts Teeball Association requires verification of compliance with the Working with Children Act 2004 for ALL Volunteers. Please be aware, Aunties, Uncles, Grandparents are more than welcome to volunteer but must have a WWC card if they have no children of their own playing. All Clubs are required to complete the required forms (TDTBA Bylaws)
We do understand you are entitled to do up to 5 volunteer duties a year before the cards are required but as we cannot verify what other volunteering duties have been carried out at other events we will adopt a strengthened policy of NO card NO Duty.
All WWC cards will be validated by the Association and spot checks will be carried out during game days.
Volunteers not listed will attract a club fine
This is a strong line but parents must understand we must protect ALL children and show due diligence that we have taken all steps to do so.
Clubs
The clubs are to ensure volunteers who do not have children playing have a Working with Children Card. No volunteer will be accepted to do any duty including canteen without the appropriate forms being completed
There is a form to make it easier for Clubs to gather the information required from all families and volunteers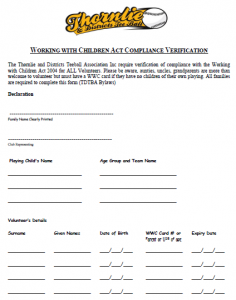 Once the Club have received the Information from their Volunteers the club is required to send the list on the supplied Spreadsheet to registrar@thornliedistricts.com
All Volunteers must be listed
Volunteers Under 18 years of age and Parents are exempt of having a WWC Card but must be listed